I generally try to make beauty purchases based on my own personal wants (ha, no, not needs), and not on hype. Once in a while, I succumb—just as I did for Benefit's new They're Real Push-up Liner.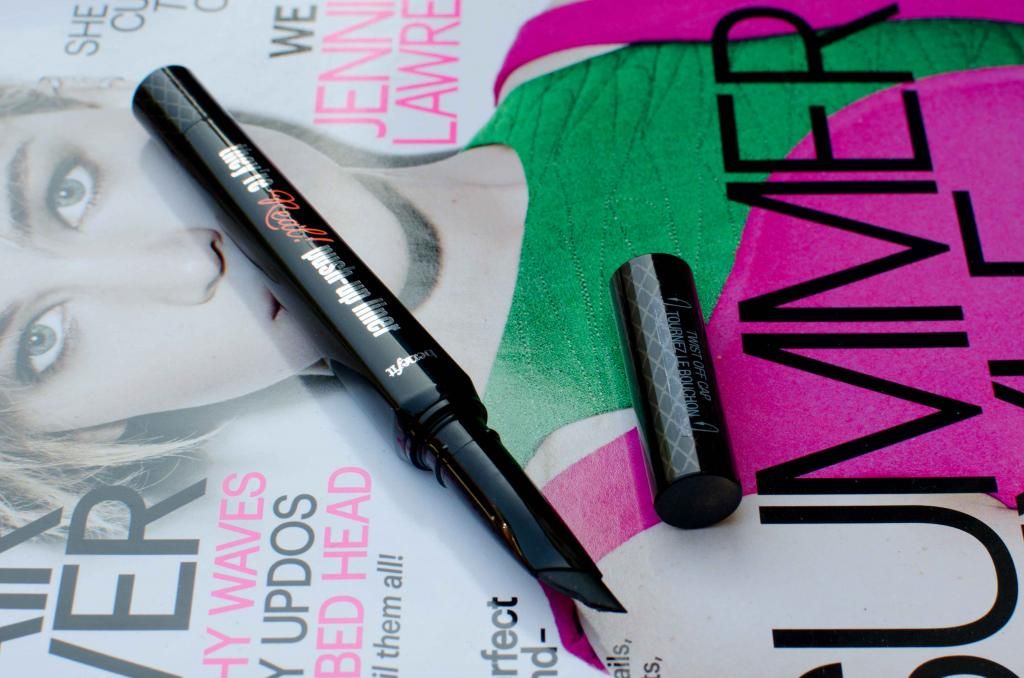 Kudos to Benefit for stirring up a marketing buzz around this new product to near Apple levels. It's not available until June 27th, but they've made a website where you can sign up to get "early access." And when my number came up last week, I just had to hit that purchase button.
Believe your own hype always? In this case, how about not. I seem to be in the minority, but this liner failed to impress me on several levels.
Let me back up. They're Real Push-up Liner is a gel eyeliner in a slanted…er…wand? Pen? The tip is slanted rubber with a tiny slit, through which the gel liner is…wait for it…pushed up by twisting the bottom of the pen. (I really had been wondering about the "push-up" in the name. 😉 ) The slanted tip is supposed to make it very easy to do a cat eye flick.
I do love me my Bobbi Brown Long-Wear Gel Liner, and sometimes struggle with my cat eye using it, even with a slanted brush, so I thought this would be just the thing. I watched their video tutorial on how to get the perfect wing with this before attempting, and I do have to say, especially for a beginner, this does simplify getting your line for your flick.
The problem is everything else. To start with, it took me about 2 solid minutes of turning before the product actually starting coming through the tip. And the control of the flow is an issue, because, if you get too much, you can't do your fine line and you waste product wiping some away. (Also, the next day, whatever was left in the tip has dried up and needs to be removed, or risk clumpy application.) If you get too little, your line is spotty. I actually had spotty application no matter how much product I "pushed up," and the excess got clumpy in my eyelashes. I had to go over the lines a few times to get them opaque, which kind of ruined the thin line application the product promises.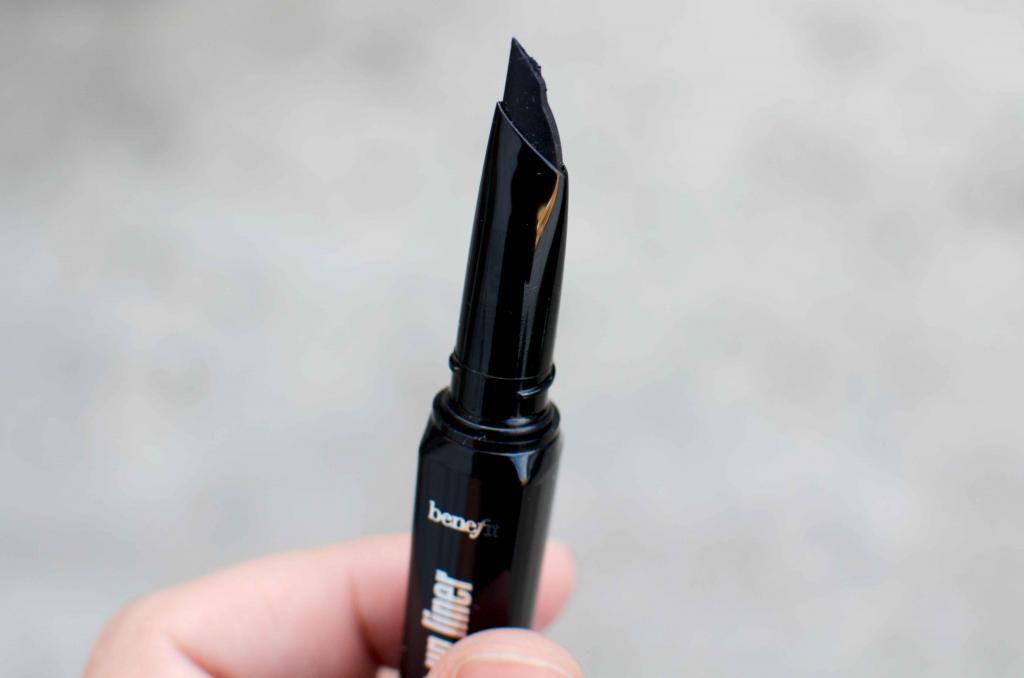 Here's what they say you should see using this product:
91% said it was longwearing*
81% said it was waterproof*
88% said it hugged the lashline*
84% said eyes looked visibly larger*
*Results observed in a consumer panel survey on 32 women after 2 weeks
So there goes number there crossed off for me, because of the application and clumping issues. As for the others, I was distressed to see at lunch time that the color had bled down underneath the flick. And that's with using an eyeshadow primer. I quickly wiped the excess away, but found more when I went to take my makeup off later.
It did stay on and didn't wash off, but it also didn't stay in place, and that's a big problem. This was even worse than with my Surratt Autographique Eyeliner (which, I confess, I've been cheating on with the Kat Von D Tattoo Liner I got from Sephora for free about a year ago and dismissed because it didn't have a felt tip…it doesn't, it has the same tip as the Surratt! And it stays in place!)
And as a follow-up to what I said here, I wore the liner with the sample of They're Real mascara I've been testing out, and dear lord, the combination of the two, the mascara flaked like nothing I've seen, and I just had black everywhere. Not a good look!
And I really tried, I did. I tried to make it work on 3 different occasions, and either wound up with black spots on my lids (from the mascara or the liner? not sure…), black flakes under my eyes, and raccoon eyes from the liner bleeding.
My disclaimer is that I do have very oily lids. To the point where first discovering eyeshadow primer was literally a life changer. (You mean I don't have to reapply my eye makeup completely if I'm going out at night?!) I use powder on my eyelids first, too. But maybe it just doesn't play well with oil. If you have normal to dry skin, this might be your new best friend. Me? For those occasions that I want a gel liner instead of a liquid, I'm back to a brush and my Bobbi Brown.
Bloglovin' | Facebook | Twitter | Instagram
Disclosure: This post contains affiliate links. For more information, check out my full disclosure policy.