I'm not too good with official blogger-y terms (can you tell I just make this stuff up as I go along?), but I'm pretty sure that today I'm bringing you an edit! Here are my favorite Autumn and Winter lipstick picks. These beauties will be gracing my lips until someone forcibly wipes them off when the thaw comes.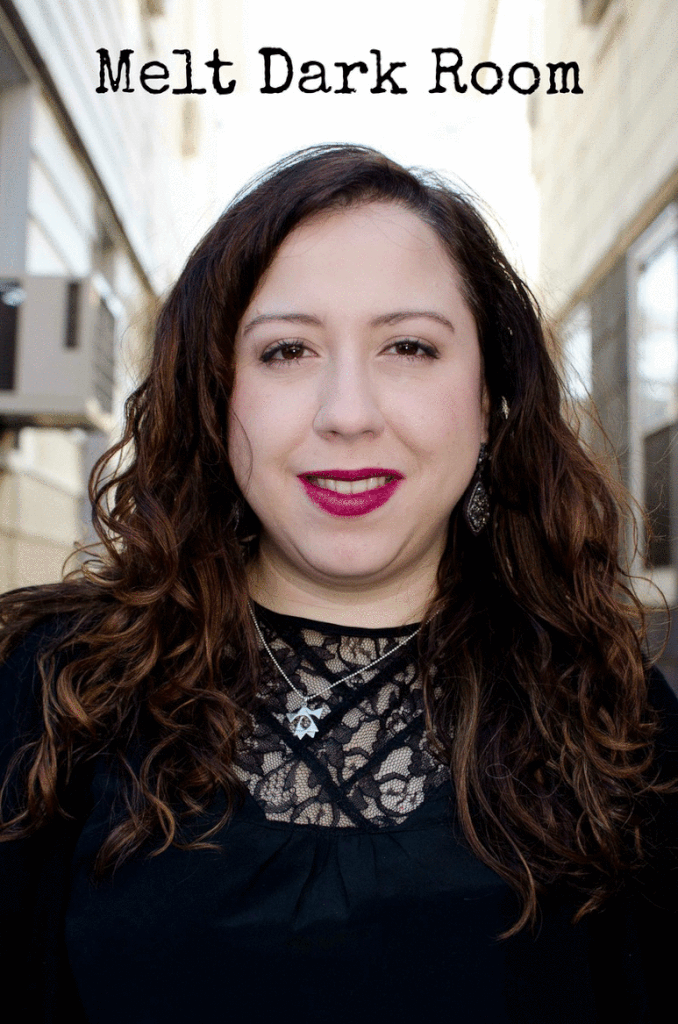 There's just something about fall and winter that makes me reach for the dark, moody lipsticks. And the fact that I can get away with them. I lucked out, because I picked up three new ones, and that was all I need. (Well, in addition to the ones I already have.) And one surprising disappointment, just to round things out.
Of course, with dark lipsticks, you need to prep your lips first. Use a lip scrub (or make your own!), use lip balm (this one is great because it's matte), let it soak in a bit first.
Okay, first, the loves.
First up is Melt Cosmetics matte lipstick in Dark Room. I've been a fan of Melt lipsticks for a while and I'd been seeing sneak preview photos of this new shade, and new I had to get my hands on it as soon as it was released. (It is sadly already sold out, but sign up for their newsletter to be alerted about restocks.)  I guess I hadn't prepped my lips as well as I thought when I tried it on, because it did highlight the dry areas on my lips (you know, those little dark…blobs…that appear when you apply dark lipstick…), but you can't really see it in the photo. And it wore just as well as the other shades by them that I have.
Next up is NARS Audacious Lipstick in Charlotte, which I picked up during the Sephora VIB sale. (I was tempted by Melt's 6six6, which was restocked when I picked up my Dark Room, but was afraid these would be too similar.) As I mentioned, this is gorgeous and pigmented and just amazing. Even when it wears off (and it wears pretty long), it leaves a gorgeous stain. The photo is showing it with a hint of berry rather than true Oxblood, but I think that just adds to its beauty. I wore it one day with a cobalt blue top and it was just PERFECTION.
Last, but certainly not least, is Tom Ford Matte Lip Color in Black Dahlia. I knew I had to have this as soon as the matte lip color collection came out, and not just because it was one of the limited edition shades. I heard it was almost a dupe of Black Orchid, which was limited edition, too, only matte. (I now hear it's a little more berry-like, but who cares?) And after I fell in love with the formula, it was a no brainer. (Now I want to try it like this!!)
You can also lightly dab any of these colors on for a gorgeous stain if you're afraid of the full pigmentation.
As for the disappointment, would you believe it's Burberry Lip Mist in Oxblood?! I had such high hopes for this one! Especially after seeing all the bloggers wearing it. It looks so pretty when you first put it on, but it doesn't last at all! I get better wear out of my Revlon ColorBurst Balm Stain, and it's a lot cheaper! And it seemed a bit more pigmented on other people when I looked up photos. I wonder if I would like the Lip Cover better, but then it might also be too similar to Charlotte. Hmm. Maybe further research is required…
Anyway, I figured you would want to see what these lipsticks look like not just on me… So on to the swatch-y goodness!!
You can see that Dark Room and Black Dahlia look a bit similar, so I did a side-by-side comparison. Dark Room has a little more berry in it, while Black Dahlia has a bit more dark purple.
And for good measure, swatches under one more lighting source!
Oh, and one lipstick pick for Autumn and Winter not pictured, since it's not new, is MAC Rebel. Because always MAC Rebel.
So, what's on your lips?
Bloglovin' | Facebook | Twitter | Instagram
Disclosure: This post contains affiliate links. For more information, check out my full disclosure policy.