I've been on the hunt for my "holy grail" foundation, and because of all the raves it receives, I knew that Armani Lasting Silk Foundation HAD to be on the list.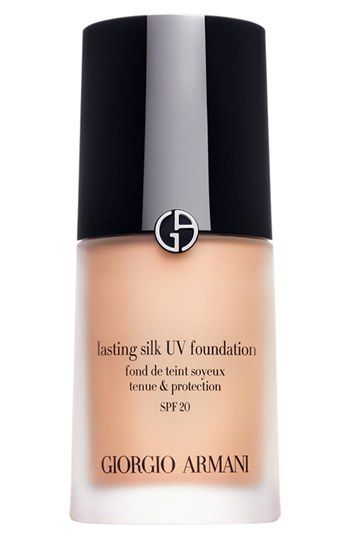 My search is spurred on by a few things. First of all, I'm a beauty junkie. So I always want to try all the products out there. And I kind of always have in the back of my mind that there might be something even better out there. (I have specific issues with all the ones I currently have.) And because of my oily skin, which I'll get under control and then suddenly nothing is working to control, I'll suddenly be a shiny mess using one that I thought worked well before.
So, on the search went. I chose the Armani Lasting Silk Foundation because people talk about it like a miracle product. It supposedly photographs amazingly, makes your skin look amazing, and stays on all day. Since it's getting warmer and the humid days of summer are already here, causing my makeup to melt off extra fast, I figured this would be a good option.
I know that the color choices of Armani foundations are notoriously ridiculous to match up to. Shades that end in a whole number are neutral, ones that end in .5 are yellow, and .75 are cool. I've been previously matched as a MAC NW15. And while people tell me that I'm cool, and I lean a little cool, I'm actually neutral. Things can wind up being WAY too pink on me. So I knew I had to be color matched in person. And wound up being give not one, but THREE different shades.
I went to an Armani counter at Saks Fifth Avenue, and the lovely woman color matched me as a 4. Neutral. Score, right? Well, it looked a little off when I would look at it in the mirror, so I made a trip to the uptown Bloomingdales. Where I was matched as a 4.5. But given a sample of 4.75 in case it was too yellow.
I just don't understand why it's so hard to get properly matched these days. I know the lighting in those particular stores is HORRENDOUS. I think they should get daylight lamps or something, or train the MUAs a bit better, because it's kind of a joke that the same person gave me both 4.5 and 4.75. Is it a lack of training or just a lighting issue?
But I wonder if it's an epidemic in general. I've even been mismatched with Sephora's Color IQ system. Or maybe my skin is just hard to match, though sometimes foundations just work right away. Or maybe Lasting Silk is just hard to be matched with. Or maybe foundations are hard to match in general, since I know people often have to buy 2 shades and mix them. These days I kind of trust Findation more than I trust MUAs!
Then again, the Estee Lauder counter has a tool they use, and the sample I got from them seems to be the right shade. And the woman at the Guerlain counter in Paris who showered me with samples, including foundation samples, got the right shade just by looking at me,
Anyway, on to the evidence.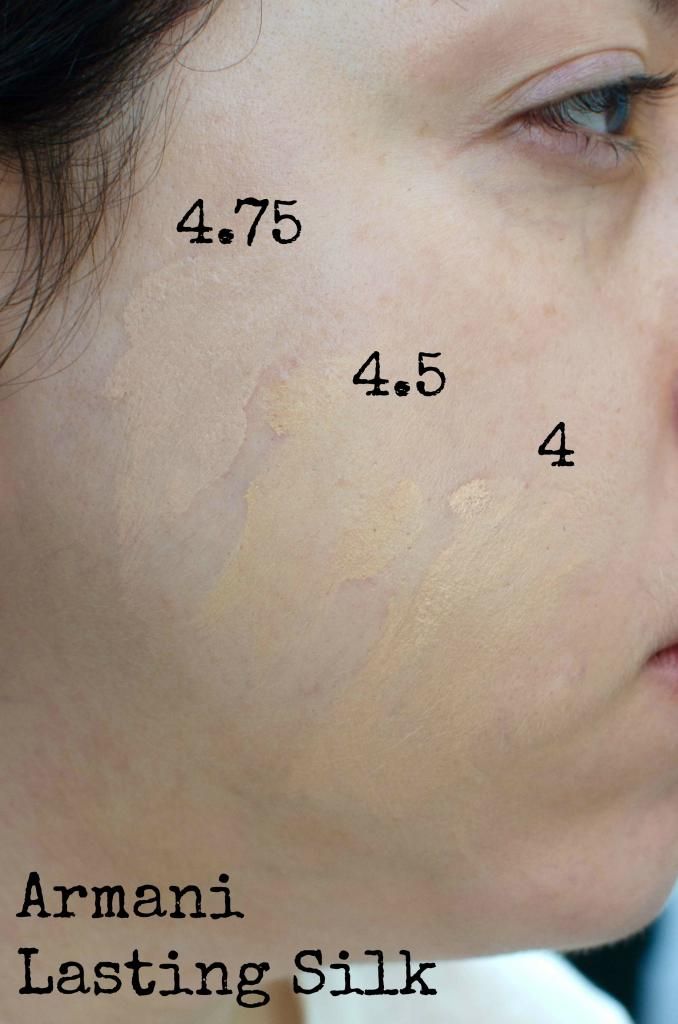 The funny thing is, I didn't realize until looking at the photos that it looks like 4.75 is a good match, but when on, it's much too pink.
These are probably the least flattering photos of myself I have ever seen, so I hope you guys appreciate it. 😉
I think this photo shows how the 4.75 is too pink for me. But after taking these photos, I thought that the right match might be mixing some 4 and 4.75.
It seemed to be spot on, but when I got home that day, comparing it with my neck, it did look too pink. Sigh.
The truth is, though, that all this work was for naught, anyway. I was given very generous samples of the foundation and tried it out on multiple occasions, and it just, frankly, sadly, does not work for me. I am super sensitive to any foundations that I can feel on. And I don't mean sensitive as in I get red or break out, it's just a tactile thing for me. And this one isn't so bad in that respect, but I find that it really kind of sits on top of my skin and doesn't disappear. Maybe it's because it's silicone heavy?
I've tried it with various primers. I've tried it with powder over it, with powder under it, and it still never quite settles. And I'll wind up with it pooled in the crevices by my nose and my extremely fine laugh lines. But I shouldn't need to smooth out pooled foundation with my fingers during the day.
So I guess it's on to the next one! I have a sample of Estee Lauder Double Wear Light, I'd like to try Guerlain's Tenue de Perfection and test its longevity, and someone recommended Arbonne Perfecting Liquid Foundation, which I'd never before heard of (and is also a silicone-based foundation). So we shall see.
Regardless, I hope you take away the lesson from this post that you should ALWAYS, as far as humanly possible, ask for samples of a foundation and try them out in different lighting before committing to a shade, much less a formula.
Have you found you have trouble being color matched? What do you think is the problem? Have you had trouble with shades of Lasting Silk? If you've tried Lasting Silk, how do you like it? And which foundations are your holy grails?
Bloglovin' | Facebook | Twitter | Instagram
Disclosure: This post contains affiliate links. For more information, check out my full disclosure policy.
Incoming search terms:
giorgio armani luminous silk foundation shades explained
giorgio armani luminous silk foundation shade finder
giorgio armani luminous silk foundation swatches
armani lasting silk foundation review