Yes, you're not seeing wrong. This is an actual blog post.* From moi. Because, you guys, I FINALLY HAVE A TOM FORD LIPSTICK OF MY VERY OWN!!! That's definitely worth blogging about. So, behold: Tom Ford Matte Lipstick in Ruby Rush.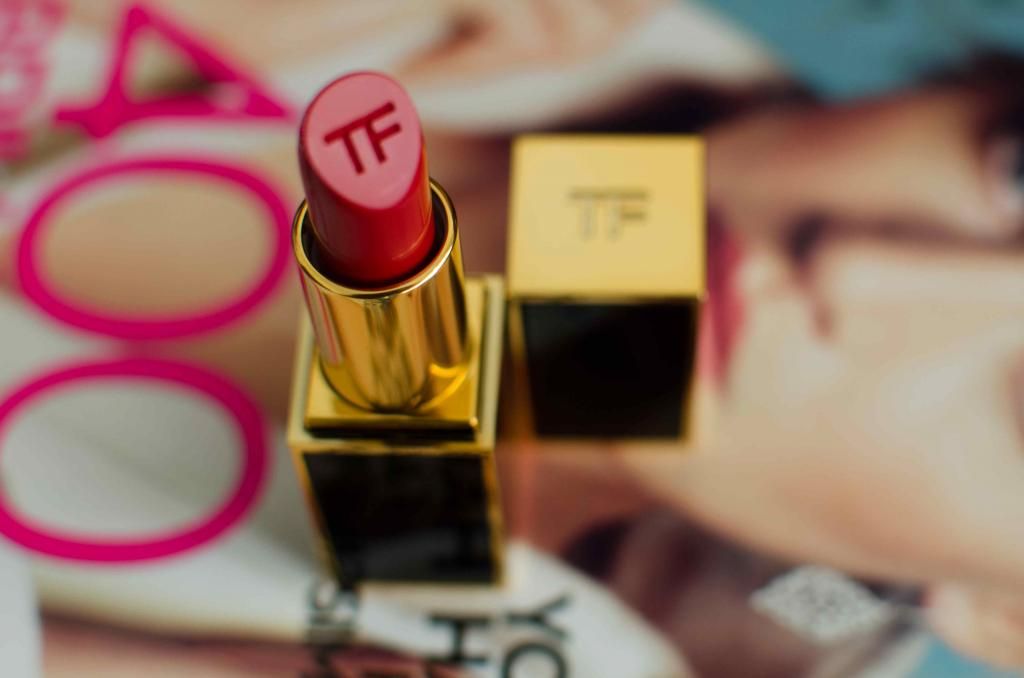 I've long wanted to add one to my collection. Two things held me back. (I mean, besides for the price, ouch.) One is that, for some reason, I felt like if I was going to get one, it had to be a RED, but there wasn't really a real red in the collection. They were either too orange or too pink. Second was the formula. You know I like my lipsticks on the matte side. Even though everyone seems to ADORE the TF formula, I wasn't sure I'd be a convert.
Enter the new Matte Collection. And bestill my heart!! (And hide my wallet!)
I had a hard time narrowing down a color. Part of me wanted to get Velvet Cherry, a darker, more maroon-y red. But the heart wants what the heart wants, and Ruby Rush seemed to be a true red, and it had to be mine.
See, here's the honest truth. I think that I have found my perfect red. I just can't wear it! On 3 or 4 different occasions, I've seen a red lipstick that made my heart stop. When I asked the blogger/Instagrammer/tweeter which one it was, the answer was always the same: MAC Ruby Woo. But…but…but…IT'S SO DRY!!! I even tried again to wear it, and it was so dry, the layers of LIPSTICK peeled off my lips! It's so unfair!! So, I need to keep looking.
So… Do I like it? No. I freaking love it.
First of all, the formula. It's matte, but it's not Sahara dry. It's not flat, flat matte. It goes on smooth and wears BEAUTIFULLY and weightlessly. Seriously. I put it on in the morning, ate breakfast, ate a snack, and checked in the early afternoon, and it had only worn away from the very inside of my lips. With my lips together, it still looked PERFECT. Seriously. I just touched up that area and that was it. If I had been going out after work instead of going home, I would have reapplied over the whole mouth, but it wasn't necessary just for the subway. And it was still on at 10:00 when I ate dinner (I know, I know). Well, it was pretty greasy, so it did come off, but I was left with a nice stain. Overall, really impressive wear. And best of all, my lips never felt even a little dry.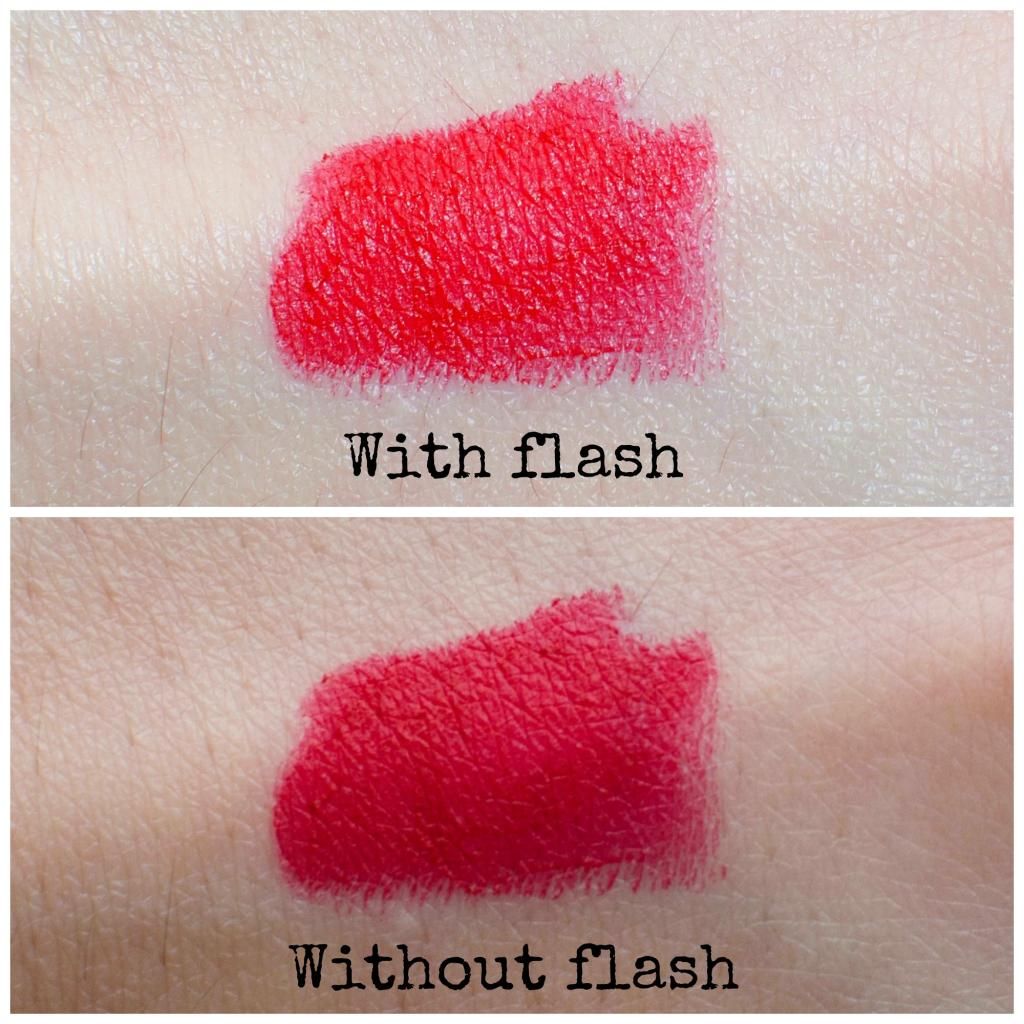 Now, as for the color, this is only because I'm a red lipstick junkie, but I wish this was a tiny bit more…oomphy. Maybe a touch more blue or a touch more RED. When I looked at myself in the mirror during the day, this didn't seem to pop. It was a wearable, everyday red. Again, this is just because I wear red lipstick so much that I can say that a red lipstick seems like an everyday red. If you're not a red lipstick person, this will have PLENTY of oomph. However, I do often wear my reds over NARS Dragon Girl pencil, so maybe that will give it the extra pop I crave. (This perception of mine does not translate to the photos. So maybe I'm just dreaming it?)
Out of curiosity, I swatched it along with other reds I wear a lot (and one more affordable option—I know, me and my luxury brand tendencies are not for everyone).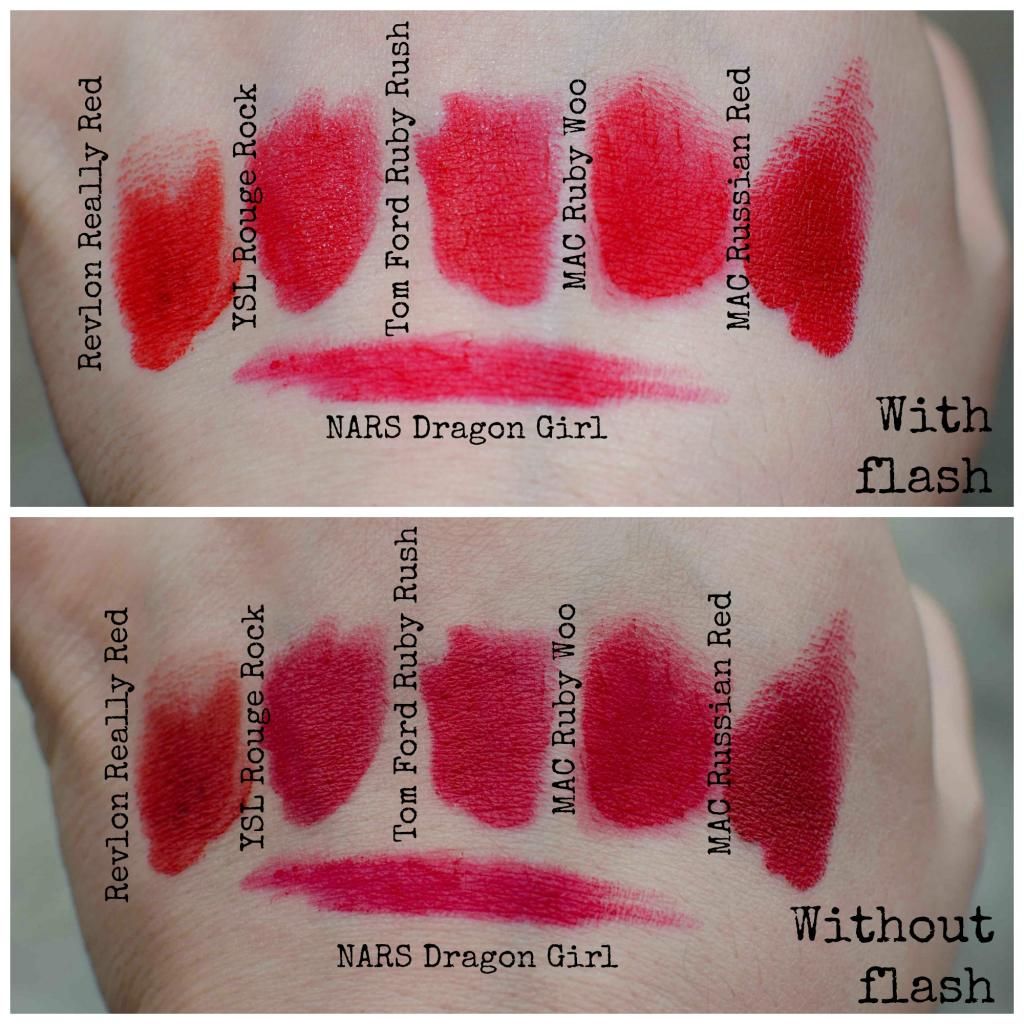 Can you see what I mean about Ruby Woo? It's just…so…RED. Ruby Rush and Rouge Rock (which I normally wear over Dragon Girl and it's my go-to va-va-voom red) look a little…pinker? Russian Red is clearly darker, and Really Red is more warm. Dragon Girl, my actual everyday red (I wear it so often, actually) is much pinker. It's like fruit punch.
But overall I'm quite happy. Quite.
So much so, I may or may not have the limited edition Black Dahlia on it's way to me as well…whoops…
*On that note, I will endeavor to try to post at least once a week moving forward. This should be doable.
Bloglovin' | Facebook | Twitter | Instagram
Disclosure: This post contains affiliate links. For more information, check out my full disclosure policy.
Incoming search terms:
TomFordMatteLipstickinRubyRush-TheSearchforthePerfectRed-shedreamsinperfectfrench
tom ford ruby rush