I know. It happened ages ago. But I still wanted to share what I picked up in the Sephora VIB sale. Because of reasons.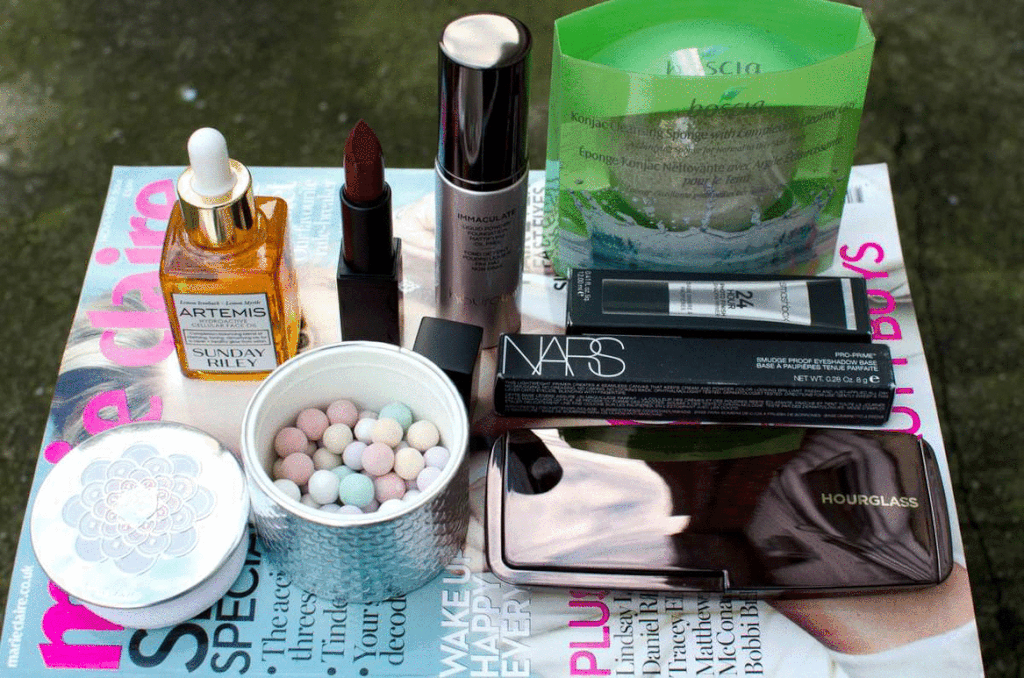 As bad as you were expecting? Not as bad as you were expecting?
Well, it wound up being a very fortuitous expedition for me, having been invited to the preview night soirée. I picked the Sephora a block from my office, where I once ran into the amazingly wonderful and awesome Josh Collier, who works for Hourglass (and who I know about thanks to the equally amazingly wonderful and awesome Karima). I won't lie, when I read there would be brand specialists at the "party," I was really hoping he would be there. But what were the odds he would be at MY Sephora.
For a change? Pretty damn good.
Here's how awesome this guy is. I have long thought that my color match for Immaculate Liquid Powder Foundation (one of my absolute favorites of forever for my oily skin) was off—despite being matched to it by the Hourglass counter at Barneys AND a Sephora SA more recently—and I never really understood why I had been matched up to the Mood Light Ambient Lighting Powder (the pink one…was I yellow?) I figured 20% off was a good time to pick up a spare, and felt so good when I saw him there. I told him I wanted to check my shade and learn how to use the Ambient Lighting powders. He asked if I had one, and I told him which one. And he immediately went, "Oh, you have Porcelain [Immaculate shade], don't you? See, when they first came out, the shade range was small and Porcelain was the lightest, but it's also much too yellow for you. So they had to even it out with the pink powder. You're so clearly a neutral, you need Pearl." JUST BY LOOKING AT ME.
(Honestly, that's what I wish most makeup artists could do/were like. I'd have so much more faith in having my makeup done places. Not so much how it actually happens.)
So he color corrected me and showed me how to use the powders…and of course I wound up buying the Ambient Lighting Palette. Cause a palette is better than a single, right?
Despite this purchase, I also came away with Guerlain Meteorites Pearls in 02 Clair. Umm. Pretty much just because I've wanted them because they're so pretty. And all the bloggers take the pretty photos with them in there. And I almost across the board refuse to buy Guerlain full price in the US because the markup is ridiculous, so a 20% off sale was my window. Have I used them yet? No, of course not, don't be ridiculous! :p
Next up is the Boscia Konjac Cleansing Sponge With Complexion Clearing Clay. I've been using the red one, after I read an article on Yahoo claiming it really helped clear up the article author's complexion. Have I seen a huge difference? Umm, no. But maybe the green one for acne prone skin will make all the difference! Here's to being forever hopeful…
Another skincare item I picked up was Sunday Riley Artemis Hydroactive Cellular Face Oil. I've been using a sample of it for a while (and just recently got a second sample). When I first went to the Sunday Riley counter, the person swore by the Juno oil. But that was maybe because Artemis wasn't out and now that it is and it's for acne-prone skin, this was the one they're touting? Either way, I was told to stick with this one. I use it in the morning before moisturizer and it has strangely helped to regulate my oil. (A little. I mean, after my uncharacteristic period of dryness, the oil came back with a vengeance. At least now my skin won't solve the energy crisis by the time I finish work.)
Back to makeup!Always on the hunt for the BEST eyeshadow primer ever, I read good reviews of the Smashbox 24 Hour Photo Finish Shadow Primer, so I decided to give it a whirl. But bought one of the NARS Smudgeproof Eyeshadow Base, too, just in case I didn't like it. I'll try and do a comparison post of the 2 when I've had time to test it out more.
And last, but certainly not least, I finally got NARS Audacious Lipstick in Charlotte, after seeing my friend Rose tweeting a photo in it. It's beautiful. It's oxblood, but also a little berry. It's pigmented. It lasts. It's one of my new favorite autumn/winter colors. And I'll be writing more about it soon! 😉
Did you guys pick up anything??
Bloglovin' | Facebook | Twitter | Instagram
Disclosure: This post contains affiliate links. For more information, check out my full disclosure policy.