I know, I know, that post never materialized, but you didn't think I'd leave you hanging on the dresses?! Here's my roundup of the celebrity fashion from the Golden Globes 2015.
From talking with people on Facebook last night, I know that some of my faves were not that popular, but, hey, this is my blog. 😉
Let's start with the good: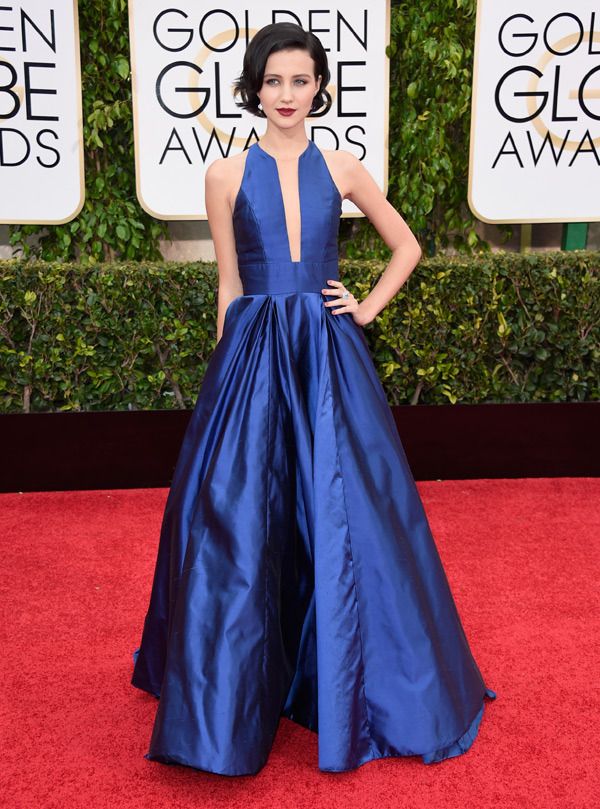 To be honest, I didn't even know who Julia Goldani Telles was, but I just knew that I ADORED the color of her dress. I felt like, overall, there was a lot of blahness on the red carpet, and this Carmen Marc Valvo grabbed me immediately.
Anna Kendrick in Monique Lhullier. <3
I didn't even see Natasha Lyonne at the show, but damn, girl looks fine in her Reem Acra!!
Okay, so I hate the mock turtleneck collar, but I love the color of Ruth Wilson's Prada, and I think the design is really interesting.
The yellow twins! I think you can tell by now that what caught my eye last night was color, and these two dresses are such beautiful shades of yellow. Naomi Watts is in Gucci, and Leslie Mann is in KaufmanFranco.
I don't always love Allison Williams (well, more like I can't stand her character on Girls), but this Armani Privé dress is just LOVELY.
I know this one will be polarizing, but I really loved Lana Del Ray's retro look in vintage Travilla. So there.
What. A. Freaking. Babe. Can I be her when I grow up?! Catherine Zeta-Jones in Angel Sanchez.
Also, she apparently looked like an emoji: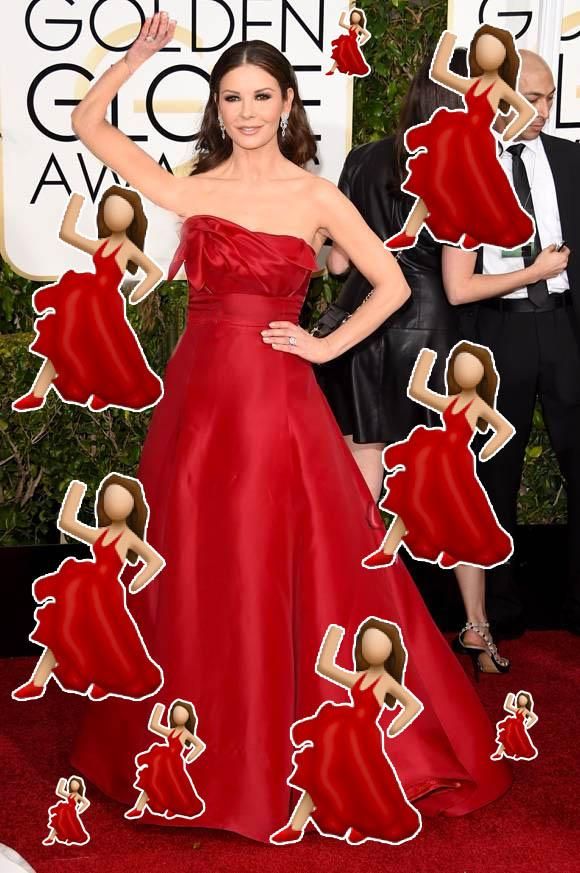 But I'd be okay with that… 🙂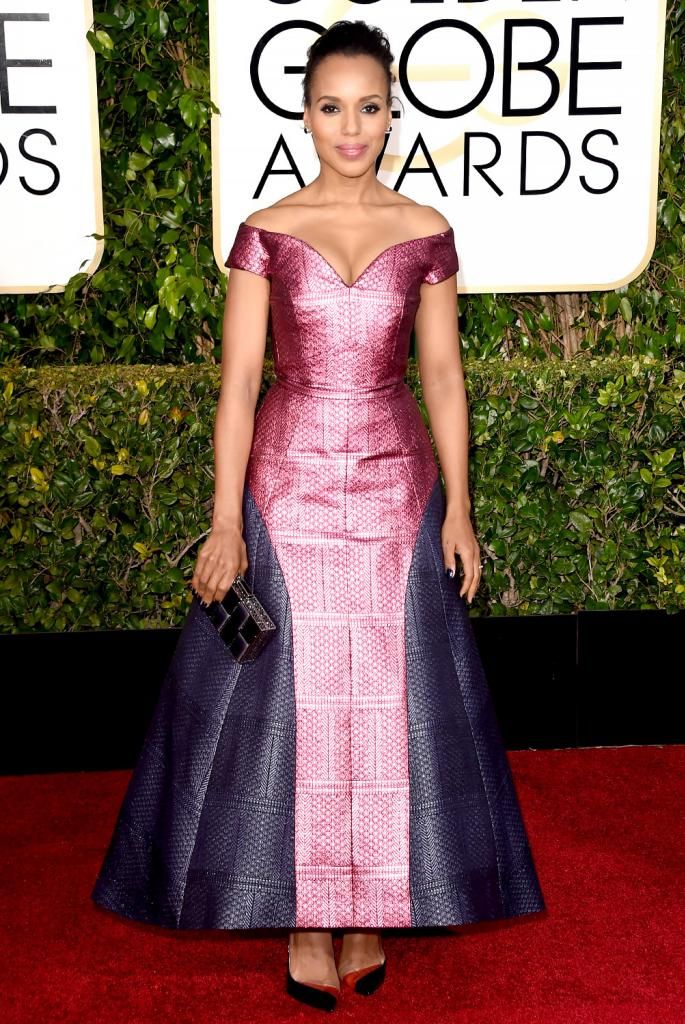 Again, polarizing, but I actually loved Kerry Washington's Mary Katrantzou.
The So-So: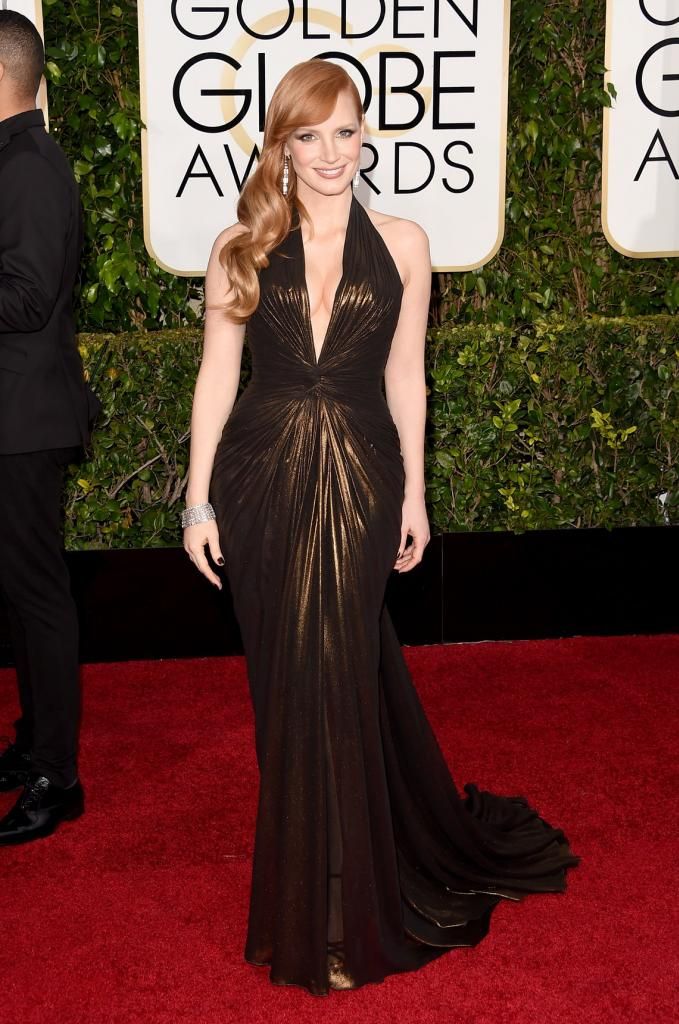 I love Jessica Chastain, but didn't have any feels for this Atelier Versace dress. She does look lovely overall, though.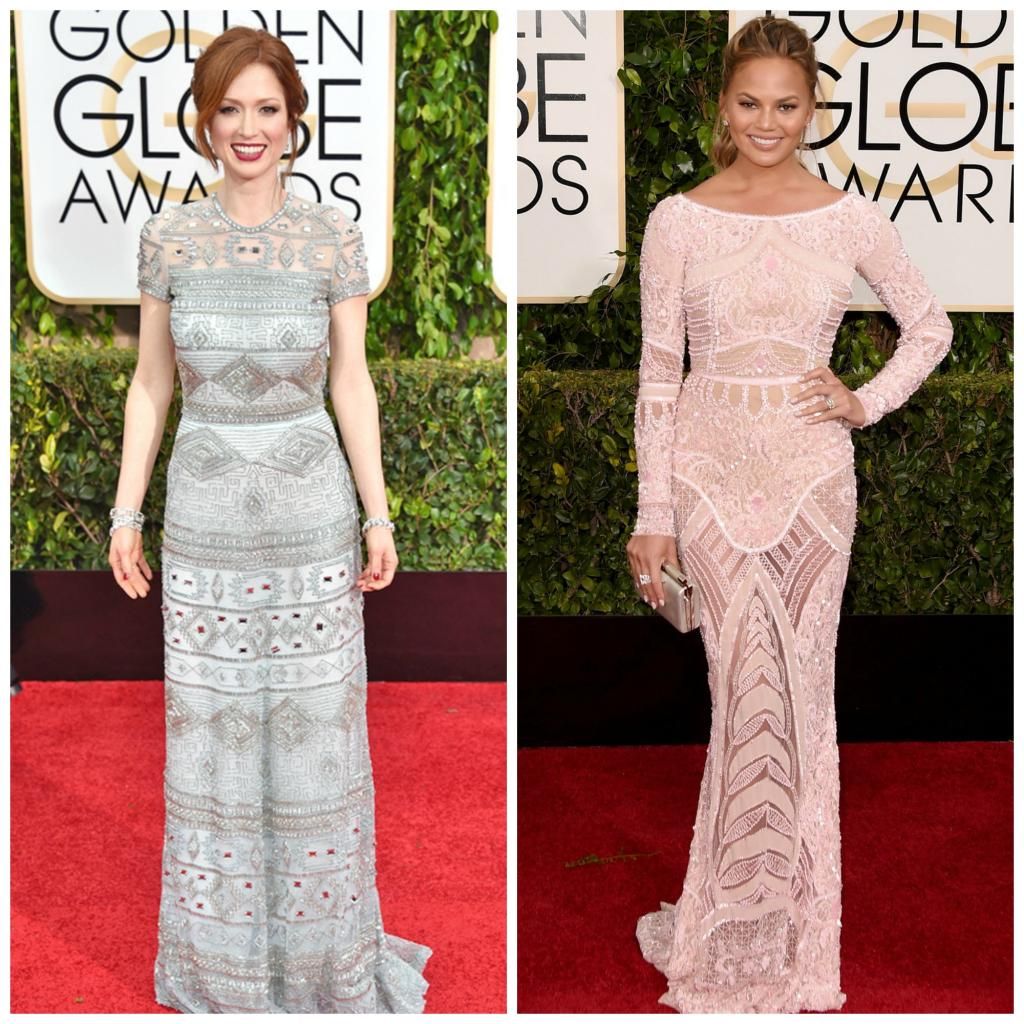 This duo of dresses had me drooling over the art deco style, but feeling meh about the shade. Both look lovely, though. Ellie Kemper is in Naeem Khan and Chrissy Teigen in Zuhair Murad.
Laura Carmichael always looks so much prettier as herself than as Lady Edith. I don't love her James Galanos dress (I don't hate it either), but her face just looks so pretty, I wanted to put her in here somewhere.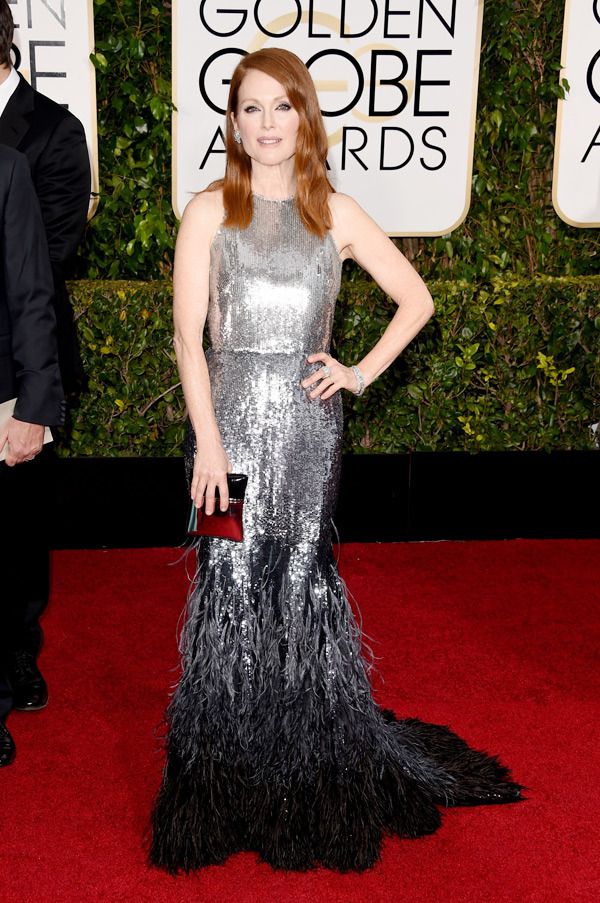 I thought Julianne Moore looked so pretty in Givenchy until I saw the bottom. Meh.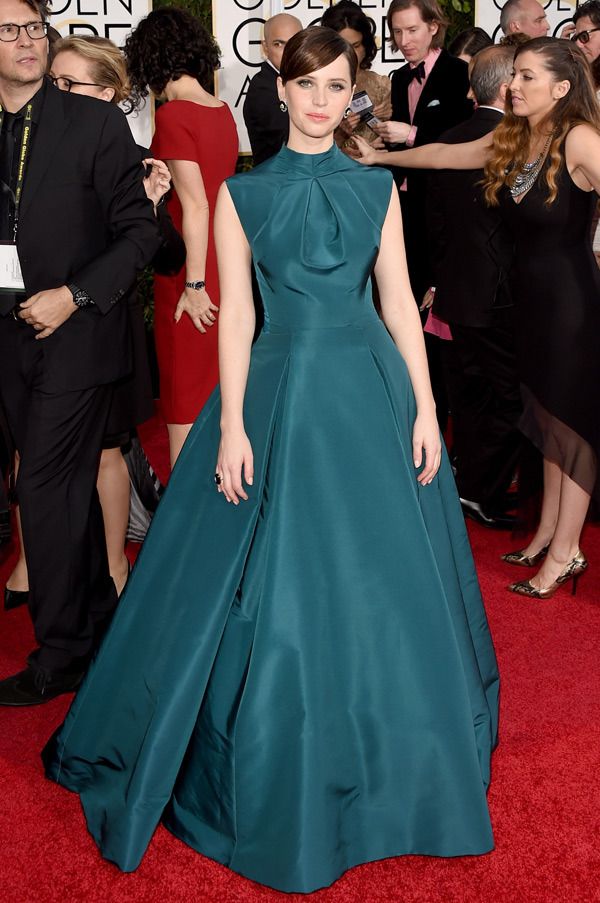 Felicity Jones, how do I adore you since before most people even heard of you?! And I adore the color if this Dior gown, but I hate the neckline and bodice. :/
Katie Holmes gets this honorable mention because I want to steal the plum color off her Marchesa gown and use it for everything always.
The Ugly:
HOW MUCH DO I ADORE ROSAMUND PIKE?! About as much as I LOATHE this Vera Wang. In general AND on her. They could have done so much with her post-baby curves, and this is what they came up with?! Convenient for nursing, and that's about it.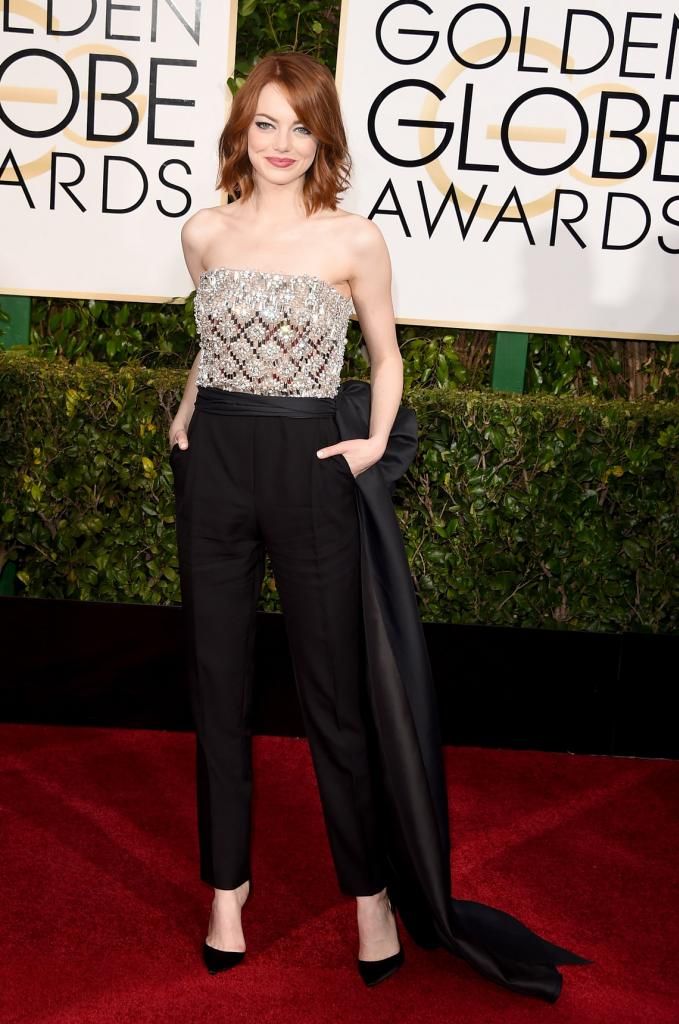 I think Emma Stone was the biggest tease, and biggest letdown of the show. I saw her head and top when she got out of her car, and I thought, My god, she looks so STUNNING! And then I saw the pants. I mean, I know I'm supposed to give her kudos for wearing a daring and interesting Lanvin, but why not save that for the Independent Spirit Awards?!
You knew this one was coming. And god, her makeup is STELLAR, but what is this?! The Amish Maternity Line?! This is CHANEL, ffs. 30 people worked on this dress. Apparently while on LSD.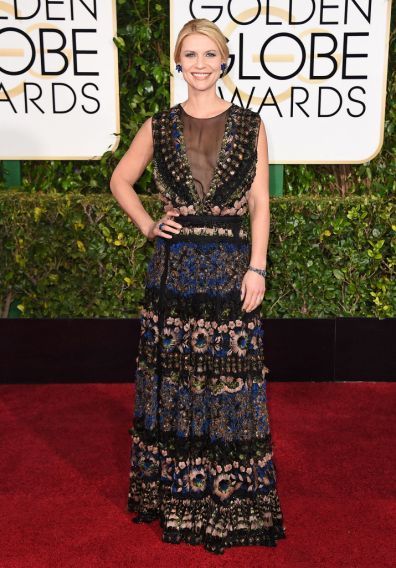 This photo of Claire Danes and her Valentino is small and blurry, but, trust me, you don't want to look any closer.
And, no, I am not even including the ones who basically forgot their dresses at home. :p
But I think my all-time favorite of the night?
Yep. Amy's boobs. God, they look good in that dress!!
Who were your faves? Least faves? Biggest surprises? Disappointments?
Bloglovin' | Facebook | Twitter | Instagram